Our Work
Design Build
One of the greatest strengths we offer is the vast amount of experience we have as a commercial interior contractor. How that translates into a benefit to our clients is that our problem prevention, problem solving, and product and systems knowledge is second to none. Furthermore, whether we are involved early in design or after the fact when the budget is exceeded, we can bring forth many cost saving measures. Due to our level of experience and knowledge we can not only offer considerable cost savings to a project, we have the understanding of the impact cost savings will have in order for our clients to find the right balance for the project. There are many cost savings we can provide that would virtually have no effect on the look and or performance of a build-out. By simply substituting manufacturer equals or using a more efficient design we can save our clients considerable money.
Tenant/Office Build
One of our strengths is in office/tenant space build-outs. Whether your build-out needs are for standard Class A office space, retail store space, or even medical space with X-ray and/or magnetic shielding requirements we have the knowledge and experience to help you with your project.
Subcontract or Prime
We operate as a Subcontractor or a Prime Contractor for our projects. In addition, we offer contract creation for our clients that do not wish to provide their own documents.
One of the strongest assets we provide our clients is commitment - not only to the project in general but to their special needs. For example, completion dates, budget, safety, quality, dust and debris control, ventilation, egress for employees and customers, fumes and smells, nightshift, etc.
We never forget that we need our clients - they do not need us. We are in service to them. We find out our client's needs and work very hard to ensure they are met. Our job is to solve our client's problems, not cause them.
We also know that commitment means nothing without integrity and honor. We do not make commitments we can't keep. We will not throw away tomorrow's relationship for today's ill-gotten gains. We will not lie or cheat for profit. It is our belief we cannot truly succeed unless our clients succeed. We are all on the same team, we win or lose together.
These are some of the tasks we self-perform on projects:
Steel Framing (LGMF)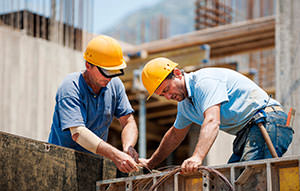 LGMF (light gauge metal framing) or CMF (cold-formed metal framing) are the large size studs that are used to form the outside of a building. They can be used in conjunction with superstructure (red) steel or as a stand alone complete exterior shell structure. This sometimes includes LGMF pre-engineered trusses, which is typically used in pitched roofs. LGMF provides considerable cost savings over traditional masonry block walls.
Drywall & Finishing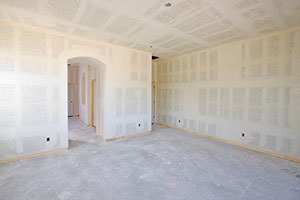 Drywall is drywall, right? If you said yes, you could not be more wrong. Today we have a multitude of drywall choices and options; from mold resistant and abuse resistant to high flex drywall. These choices in most cases come in combinations, for instance you can get antimicrobial (mold) resistant drywall that is also moisture resistant and fire rated. If you have a special need, there is most likely a special drywall to fill that need. There are five levels of finishing drywall. From just fire-taping which is a one coat process to level - 5 finish which is 3 coats of joint compound over the joints and corners then skim coating the entire wall surface for a uniform finish. As with drywall there are many types of joint compound, from light-weight to quick-setting. The type of finish and joint compound you should use depends on the needs you have. That is where our experience comes into play for you. Let us evaluate your needs and provide the best solution for you.
Insulation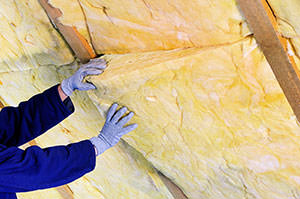 There are three primary barrier functions of building insulation products; thermal, sound, and vapor. There are two types of thermal insulation we commonly utilize which are fiberglass and polystyrene (rigid foam). Both types can be used with vapor barriers attached to them or "unfaced" if the design calls for a separate vapor barrier. The second type of insulation we utilize is sound. This comes as fiberglass and/or mineral wool. Fiberglass is more economical and mineral wool has better performance.
Acoustical Ceilings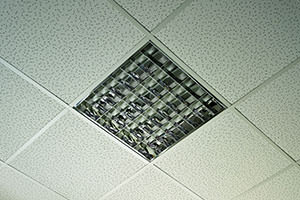 There are two primary components of an Acoustical Ceiling. They are as follows:
Ceiling Tile: Tile comes in a multitude of colors, styles, and sizes. The most common sizes are 2' X 2' and 2' X 4'. The most common styles are square edge (flush with the grid) or reveal edge which sits about 1/4" below the grid.
Grid: Grid is the framework that holds the ceiling tile in place. The grid is usually made of painted galvanized steel, but it can be aluminum and even fiberglass. While some gridsystems are concealed, which means the tile covers the grid, most grid is exposed. Exposed grid is the metal band you see around the ceiling tiles. We could go on forever about types of grid and colors available.
Acoustical and Tackable Wall Panels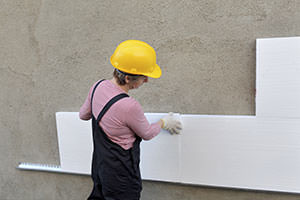 Fabric wall panels are applied to existing wall surfaces such as drywall or masonry.  These 1/2" to 2" thick panels provide an acoustical value, can be tackable and provide a custom appearance. Most panels are ordered to specific dimensions, shipped directly to the project and then installed using clips or adhesive. We offer our own custom panel option through Fabricmate. This installation offers "custom" as the standard because they are not made at the factory - they are specific to each and every project using the Fabricmate patented system.  Give us the opportunity to quote your next project and let us tell you about our no cost 3 and 15 year fabric replacement warranties and how we can do all this for less cost than most pre-made panels.
Other Optional Acoustical Panel include Acoustical Panel Systems, Conwed designscape, Golterman & Sabo, Kinetics Noise Control, MBI.
E.I.F.S.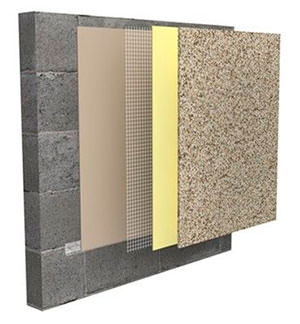 E.I.F.S. stands for Exterior Insulated Finish System. It is a high tech polymer-based plastering system that is most commonly used in commercial and residential exterior applications. Some examples of E.I.F.S. projects we have performed are the Eastview Mall Entrance Expansion, the Pittsford Plaza Facade Renovation, and the Greece-Rochester Marriott project. The sky is the limit when it comes to design, colors, and textures. The systems and applications for each manufacturer are similar.  Your needs and budget define which one to use.
Specialties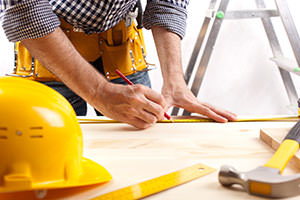 Due to our desire to offer outstanding service to our customers we perform a large variety of tasks. Some examples of these specialties are: doors and hardware, frames, toilet partitions, toilet accessories, curtain tracks, corner guards, trim work, millwork, access (computer) floors, demountable partitions, sound panels, access doors, fire stopping (sealants), etc. If it is a carpentry or plastering related task, we most likely do it. Just let us know what your needs are. If we don't do it, we will do our best to steer you in the right direction.